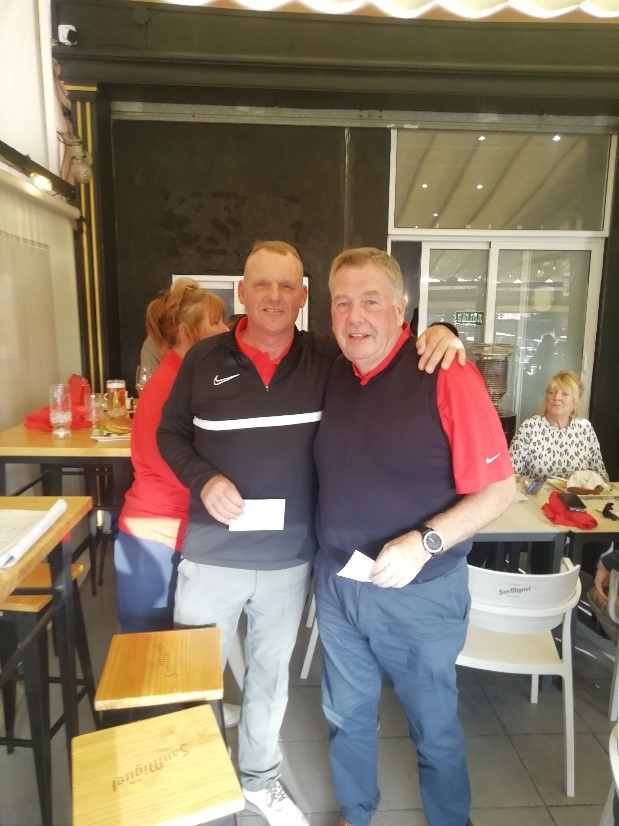 39 members played in our 2nd meeting of 2023, at Las Colinas Golf resort. The weather was cloudy and a bit chilly at the start of play, however the sun managed to make an appearance for the back 9 holes which gave a pleasant finish to the days play.
The Captain thanked everyone for their attendance and hoped everyone enjoyed the day.
The Captain welcomed the new members to AGS:
Jose Antonio Lopez
Steve Huggett
Claude Robette
Shaun Wheatley
Prizes were presented to the following winners: –
NTP Hole 7 went to John Hicks
NTP Hole 10 went to Derek Fleet
NTP Hole 14 went to Mike Morris
NTP in 3 on Hole 18 went to Martin Armstrong
The Best Net score on Hole 17 was won by Bob Chambers with a Net 1
The Team Event was won by Alan McAuliffe, George Dawidow, Ian Harkness
All the above won a €10 Voucher from The Lucky Lion.
Well done also to John Coyle who won €20 on the Charity football card.
The Silver Division runner up was Esa Partanen with 31 points.
The Silver Division winner on countback was Wayne Stevenson with 31 points.
The Gold Division runner up was Joe Murphy with 34 points.
The Gold Division winner was Mike Fitzpatrick with 37 points.
Gold and Silver Division winners and runners up won vouchers from the Luck Lion.
Congratulations go to our overall winner Mike Fitzpatrick.
Nigel Hardy, the PGA teaching pro at Lo Romero golf is sponsoring our Captain Gary Armstrong with a voucher for a free lesson at Lo Romero golf, this was presented to the overall winner.
The captains' chosen charity is Help at Home, and this year's fund currently stands at €372.6. A well-deserved thankyou goes to Sam Udell our charity member for her continued hard work
Many thanks go to Michael and Anoushka at the Lucky Lion for their continued support, a delicious post-match meal and refreshments.
Our next match on Thursday, 30th March 2023 will be held at Saurines Golf resort.
We have 36 places available.
If you want to play in our next event, please place your name on the list at the Lucky Lion bar, or for any further information, contact the Secretary, Chris Udell at alfiesgolfsociety@gmail.com
Gary Armstrong
Captain AGS
24 Feb 2023