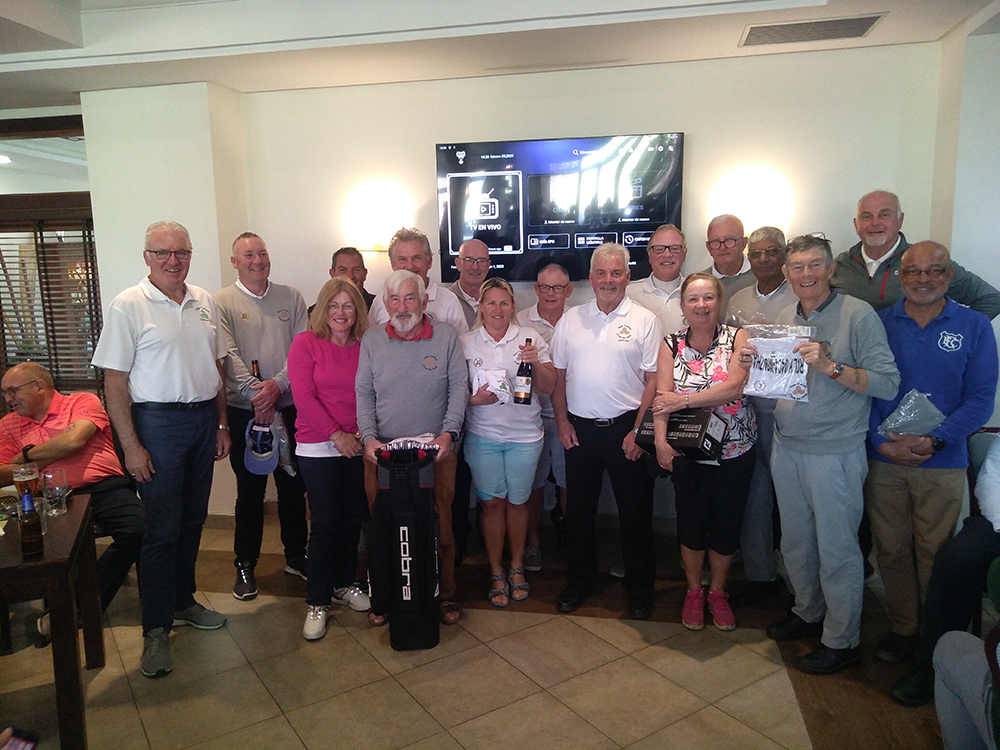 We celebrated our February Championship Day last Saturday. The weather at the moment is really quite cold and shows no sign of letting up. Brrrr. Thanks again to Camillus, Terry, Philip and Alan for all their hard work. It really is appreciated by all the members. Muchisimo gracias a Cristina y Karolina in the office. They ably assist the smooth running of our tournaments. It would help them a lot if you would make sure that you press the "finalizer button"and check to see that your cards have been returned.
Sometimes the internet plays silly buggers and drops out, leaving your result floating around in outer space. We had our drinks and freshly prepared Jamon de Serano and Tomate rolls waiting for us after 9 holes.  They were delicious and went down a treat, well done to the kitchen and bar staff. The course is in fantastic condition when you consider the time of year. It is a credit to Miguel and his team, enhorabuena. If you happen to be in a bunker, could you please rake around the general area also so as to help leave the bunkers in pristine condition.
November Medal winners were, Cat I John O'Brien 70 and Alan Ewing 71. Cat II Skip Stulhpfarrer 64 and Felix Mallon 73 and Cat III Terry Lewis 68 and Eddie Stapleton 73. Crystal winners, Cat I, Frank Considine 43 Michael Stott 35 and Denis McCormack 35. Cat II, Henry Mooney 41, Catherine 39, and Mary Kehoe 36. Golf prizes, Cat 1 Steve Hopkins 38, Thomas Warren 35 and Dave Marriott 34. Cat II, Mary Molloy 40, Pat McLoughlin 38 and Pat Baker 36.
Results of the day, the NTP's. Frank Considine, Alan Campbell, Clive Jenkins, Mike Stott and Philip Mountford. Cat. III Tony Woodward 36, Stephen Formby 35 and Pat Baker 35. Cat II  Thomas Warren 38, Alan Campbell 37 and Gordon Montgomery 37. Cat I Jim Imrie 35, Kenny McGeehan 33 and Pauvla Serakova 32. The gross was won by Denis McCormack  32. Second overall with 39 Logan Nayager, and the winner with 42 fantastic points on the day, Tom Conway . Well done to all the winners and congratulations to so many who remained behind to honour those who won a prize.