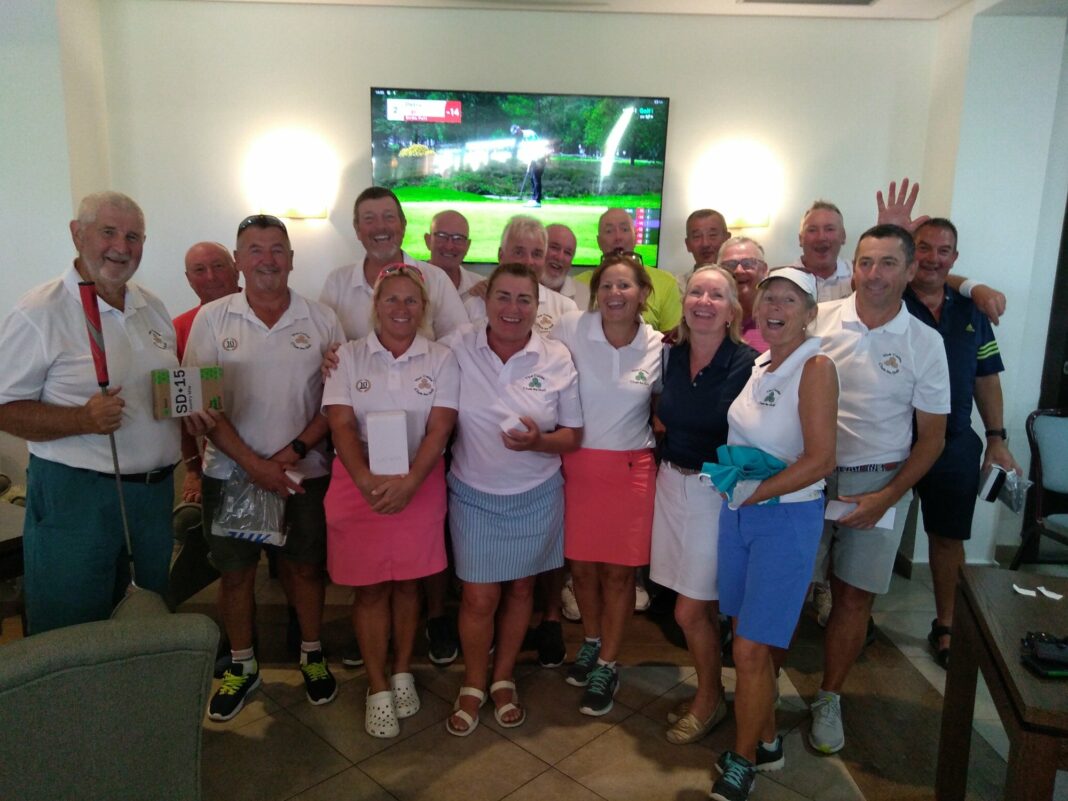 We celebrated our May Championship Day last Sunday at La Serena. With the tee boxes loaded we set off at 08.45 with a shotgun start. It is impossible for our championship days to run any smoother, this is due in no small way to Camillus and his team, Terry, Alan, and Philip, well done. The shotgun start proved to be a great success with more people remaining behind for the presentation.  Thank you to Jose and Karolina for their assistance in organising the results on the day. We had freshly prepared Jamon de Serano and Tomate rolls waiting for us after 9 holes, they were delicious, well done to the catering staff. We wish to thank the green staff for all their efforts and the work that is going into the course. Our captain George Thomas was on hand to present the prizes to the winners.
Medal winners were, Cat. I. Camillus Fitzpatrick 68, 2nd. Mark Palmer 71. Cat. II, belonged to the ladies with Sheila Coyne scoring a 66 and 2nd to Hayley Walsh 69. Cat. III. Winner Peter Wyatt 69, 2nd Logan Nayager 70 and our super senior winner, Brian Humphreyson 75. Crystal winners, November Cat I, Tony Burns 39, 2nd Terry Fitzgerald 37 and 3rd Pavla Serakova 36. Cat II, Winner Pat McLaughlin 43, 2nd Pat Baker 39 and 3rd. Tony Stafford 39. Golf prizes, Cat 1 Chris Daw 43, 2nd John O'Brien 40 and 3rd Camillus Fitzpatrick 36. Cat II, Holly Thomson 42. 2nd Bev Buckley 40. 3rd. Willie Mackie 36.
Results of the day, Cat. III. Peter Carr 37. 2nd Carmel Mcshea 37. 3rd. Peter Wyatt 37. Cat II. Terry Lambert 37. 2nd. Pat McLaughlin 37. 3rd Dave Cosson 37.  Cat I. Gary Conroy 39. 2nd. Alan Campbell 37. 3rd Kenny McGeehan 37. The gross was won by Alan Ewing with  34. Second overall with 39 John O'Brien, and the winner with 41 fantastic points on the day Camillus Fitzpatrick. Well done to all the winners and congratulations to so many who remained behind to honour those who won a prize. It was the first presentation when all prizes were collected, thank you.